Informatie middag (15.00 – 17.00 / inloopsessie) op afspraak ten kantore van ExportPartner, Emmalaan 12 in Baarn!
Oud-deelnemers vertellen hun ervaringen met het programma tijdens de informatie middag:

 meer informatie!
'Voor Beaphar ligt er nu een raamwerk voor export en de eerste acties zijn in gang gezet'
'Met strakke focus op het buitenland zijn we van 10 naar 83 exportlanden gegroeid'
'Export is een vak en door de opleiding zijn we 'best-practice' geworden'
Exportmarkten opbouwen en verder doorontwikkelen!
In juni 2019 starten we weer met ons export strategie programma. Exacte datum en definitieve planning wordt in overleg met de deelnemers bepaald. Dit gezien de drukke reisagenda's.
Thema's:
Samenstelling intern export-team – is er voldoende back-up voor de exportmensen in het veld?
Exportmarktonderzoek – wat is nu relevant te onderzoeken?
Prioriteren – marktontwikkeling of marktpenetratie / bestaande of nieuwe klanten?
Intern versus extern – denken en handelen we voldoende outside-in?
Concurrentie – waar ligt ons onderscheidend vermogen?
Marktdekking – wat zijn de resultaten van onze huidige distributeurs, agenten en partners?
Marktpotentie – hebben we voldoende marktdekking en –resultaat                                                                                                                                                                                                             Reorganisatie distributiebeleid – is het tijd voor een kritische resultaten analyse?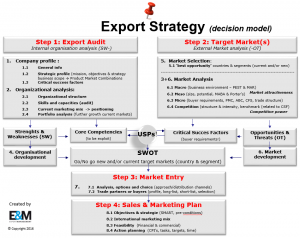 'Met strakke focus op het buitenland zijn we van 10 naar 83 exportlanden gegroeid'